SO I find the Black and White Motif and sudo "X" curious. I thought we all could share our thoughts on what the symbol may mean or represent, since this person may attempt to kill either of the Olivias...
My First thought because of where the "X" is placed and rotated made me think of his heart. It almost looks like something (like a bullet) pierced through it. Metaphorically this made me think he could have lost and/or being missing his heart or----> "soul".
Then I thought about my theory that "soul energy" (the yellow dot motifs) are the technology of the First People and that I believe that they may derive from another universe and time traveled and created the blue and/or red.
Now thinking about time travel, looking at the symbol again, just like the idea of the bullet moving through him, I can see it the opposite way that he is traveling very fast--using his soul energy ---time traveler. (Think William Bell. 1. We do not now what method he used to reality travel at all. 2. "Over There Pt2" He used
himself
with a particle accelerator to help the others get back")
Some may have read my thoughts that Peter may come to parallel Desmond, but also that the actor who is credited to play Mr. "X" also played a terrorist on Alias, named Urlich Kotter, who attempts to kill Sydney Bristow by burying her alive in a casket with a dead corpse. -I made parallels that if these two realities (blue and red) derive from one missing universe, then they both may have repeating events/people --playing on whatever happened, happened (white Tulip shows that this is possible) but like that of a parent having children (passing of DNA), can the children be similar to the parent, but not 100% exact (as that would be a clone with out variation), as evolution (something that is changing-which is something that is in motion) calls for VARIATION in species...I ended up paralleling John Scott and Peter and Christmas back to LSD in conjuntion to "The Transformation". Peter and John due to a type of conscience connection (dream state-astral projection) have proven their love for her. In "The Transformation" Olivia takes down terrorist Conrad Monreau--and the word for the FBI to move in raid him, was Christmas.
In "Bloodline" I still don't 100% buy that Brandonate and/or his science team are really who they seem they are...I feel like either or may have their own agenda for helping to abduct Olivia and accelerate her baby outside of Walternate's wishes...
In "The Arrival" John Mosley seems to be a person whom is at war with the Observers. But his conversation with Peter at Robert's grave almost gives an inkling that Mosely may have actually known Robert Bishop. His hat has the green green green red motif in dots----in "LSD" it shows up again as Olivia's father was the only one on the military base to have a red door while the others have green (Note: green and red are Christmas colors). Because of "The Equation" some fans attribute the motif to "frequency" which leaves us with "the speed at which something travels" as the boys father actually looses "track" of time and has no memory of the time lost. Mosley could be a time traveler like the Observers and possibly the beacon.
In an episode "The Bishop Revival", if is left unclear if Hoffman time traveled or if he just didn't age, but it may be that these episodes together offer a hint: Arrival = Revival = Survival. (Revival =
To Come Back Alive Again
= The Island--FS = transitional states between corporeal existences = Humanities fail safe to insure progression and survival)
So all in all I could see that this person is a time traveler, or that his spirit may have manifested into someone else who is going to take on his role.
The other thing that struck me was the 4-sided ness of it. If it could represent for universes....It also reminds me of "The Dark Tower" which once again mirrors time/reality travelers...
The black and white itself could either meaning something hidden (reality/knowledge), and/or death, which death often times means "Transformation" (another reason why I looked at the episode with that title) Perhaps ZFT really derives from a war with the Observers that is now taking place over several universes....
What about you guys what does it remind you of ??
--------------------
I went onto do some research and I had Biblical Peter in mind, since the biggest accomplishment of the LSD experience was Peter saving and proving himself to Olivia.
In FRINGE there has been a bit of Sheep related things. From 'the pattern sheep' in fans first Fringe case 0091 apart of viral marketing, to Ror Shaks music video, The sheep horn glyph, "baa Baa Black Sheep"-Wlater Of Human Action the episode title "Do Shapeshifters Dream of Electric Sheep?", and the reveal of extinct sheep in "Immortality" makes me think that Peter is meant to be reflective of a "Shephard" as Christ asked Peter to "feed his sheep" (or lambs). Sheep also relate to 'counting sheep' to Dream (Peter: If you can dream a better world, then you can make a better world.")
Second I was thinking about "X" marks the spot---or a variable in an "equation". (pattern)
And then I came across the Christion symbol
the "Chi-Rho" or "sigla": the letters "X" and "P," representing the first letters of the title "Christos," were eventually put together to form this symbol for Christ ("Chi" is pronounced "Kie"). It is this form of the Cross that Constantine saw in his vision along with the Greek words, TOUTO NIKA, which are rendered in Latin as "In hoc signo vinces" and which mean "in this sign thou shalt conquer.
and more modernly thought:
Though modern representations of the chi-rho sign represent the two lines crossing at ninety degree angles, the early examples of the Chi-Rho cross at an angle that is more vividly representative of the chi formed by the solar ecliptic path and the celestial equator. This image is most familiar in Plato's Timaeus,[12] where it is explained that the two bands which form the world soul (anima mundi) cross each other like the letter chi.[13] Not only did the two legs of the chi remind early Christians of the Cross, "it reminded them of the mystery of the pre-existent Christ, the Logos Theou, the Word of God, who extended himself through all things in order to establish peace and harmony in the universe," in Robert Grigg's words.[14] Hugo Rahner summarized the significance:

"The two great circles of the heavens, the equator and the ecliptic, which, by intersecting each other form a sort of recumbent chi and about which the whole dome of the starry heavens swings in a wondrous rhythm, became for the Christian eye a heavenly cross."[15] Of Plato's image in Timaeus, Justin Martyr, the Christian apologist writing in the second century, found a prefiguration of the Cross,[16] and an early testimony may be the phrase in Didache,

"sign of extension in heaven"

(sēmeion ekpetaseōsen ouranō).[17]
-------



The use of a wreath around the Chi Rho symbolizes the victory of the Resurrection over death

, and is an early visual representations of the connection between the Crucifixion of Jesus and his triumphal resurrection, as seen in the fourth century sarcophagus of Domitilla in Rome. Here, in the wreathed Chi Rho the death and resurrection of Christ are shown as inseparable, and the Resurrection is not merely a happy ending tucked at the end of the life of Christ on earth

More here:
http://en.wikipedia.org/wiki/Chi_Rho
Note in "6B" is about STRONG entanglements of people through time and space, the man and women from each universe' surname was Rosencrantz, German meaning" "rose wreath".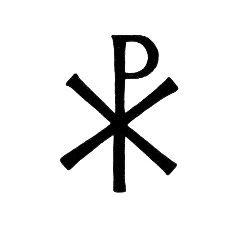 P - O - X
So perhaps Peter "relates" (relativity) to Mr. X some how....