I was doing my daily routine looking for some interesting about TB to post and I found out this amzing summary of spoilers about the new characters, I only posted the characters that we dont know yet or just know a lil bit.

Claudine - a fairy
One of our most hotly anticipated characters to make the leap from the Sookie books to the True Blood television series is Claudine. A compelling character in her own right, Claudine is also the catalyst for some incredible storylines that play out over the course of the Sookie Stackhouse novels.

Let's start with the basics: Claudine is a fairy. We first meet her in the fourth Sookie novel, Dead to the World, where she is described as a gorgeous woman, at least six feet tall, with dark hair, pale skin, and large, almond shaped dark eyes. She has a beautiful smile and Sookie says Claudine's skin reminds her of the skin of a plum. Although she first tells Sookie that she is in Shreveport simply because of all the supernatural happenings, Sookie later discovers that Claudine is, in fact, her fairy godmother who is working her way up to becoming an angel. A strong, intelligent being, she saves Sookie from danger on multiple occasions, and Sookie becomes quite fond of her.

Claudine is one of triplets: she has a brother, Claude, who owns a strip club; and a sister, Claudette, who is deceased. As Sookie's fairy lineage is revealed, she learns that the fairy triplets are cousins of hers, a few times removed. Tragically, Claudine is killed in a devastating battle at the end of Dead and Gone, the ninth book, while pregnant with a full-blooded fairy child.

Claudine's role on True Blood has yet to be fully revealed, of course. We do know that she is a fairy and that she is Sookie's protector. Based on casting, we expect that she will have pale skin, dark hair, and large, beautiful eyes. However, she will not be 6 feet tall as she is in the books. On the series, Claudine appears to be in her 30s or 40s. We'll get our first look at her in episode 3.07 when she appears to Sookie in "a golden vision" where she imparts a warning to Sookie.

source

Caroline Compton - Bill's wife
Shannon Lucio
Seen briefly in the second season of True Blood, Bill's wife Caroline Compton will play a larger role in season 3. Due to scheduling conflicts, the role has been recast, revealing a little bit more information about this largely unknown characters. In the Southern Vampire novels, Bill reveals to Sookie that he was married with three children (or five; there's an inconsistency in the books) when Lorena turned him after the Civil War. His wife and children are long dead by then, of course, so we don't have occasion to meet them in the books.

True Blood, as a different medium, allows for flashbacks in our characters' lives. As a result, we saw Lorena turn Bill and experienced him watching his wife and children from afar. In the third episode of season 3, we'll get a closer look at Bill's human family when a flashback to 1866 shows us Caroline Compton raising a shotgun towards a stranger approaching, who turns out to be her husband.

source
I wonder if we are gonna see Caroline again!

Holly Cleary - Vampire
Here's a twist: True Blood is introducing a character in season 3 who we should have met last season! Holly Cleary first appears in the second Southern Vampire Mysteries novel, Living Dead in Dallas, although her character gets more attention in book four, Dead to the World. She's a minor but recurring character throughout the books, even dating Hoyt Fortenberry at one point. In the novels she's in her mid-20s, divorced and the single mother of five-year-old Cody. She's a waitress at Merlotte's, and a Wiccan. Although she does practice some witchcraft, she's mostly interested in living the Wiccan lifestyle.

The casting call for Holly on True Blood alters things a little bit. She's now the thirtysomething "presumably single" mother of two children who applies for a job at Merlotte's. The "presumably single" qualifier suggests that she might be hiding out from an estranged husband, thinking that Bon Temps is a sleepy rural town where she can live quietly. And really, considering this show, she must have a secret of some kind! The casting call also notes that Holly is "oddly prescient", which disturbs the already high-strung Arlene, so we can assume she will have at least some sort of supernatural prowess. Holly Cleary will recur from mid-season 3 possibly into season 4, which has book fans pretty excited about a certain Eric storyline that we suspect will end season 3 and kickstart season 4

source
Janice Herveaux - maybe Alcide's sister
Dawn Olivieri
We first meet Janice Herveaux in the third novel in the series, Club Dead. She doesn't have a large role in the books, but we do get some background on her from Sookie. We know that she is Alcide's sister, she's married, and she owns a beauty shop in Jackson, Mississippi. Janice meets Sookie and really likes her. She insists on doing Sookie's hair, a new experience for the do-it-yourself-glamor girl.

It looks like Janice from True Blood is going to be a different woman, though. Per the casting call, Janice is in her early 30s, she's fit, and she's tough as nails. Her style runs to black leather and biker gear, and she's fascinated by horoscopes and psychics. She is also a beautician on the show, which should make for an interesting combination (biker/hairdresser?). Janice is very protective of her little brother, Alcide. Is she somehow affiliated with Coot's werewolf biker gang? As far as we know, Janice is human, but with her father (Jackson) and brother both weres, she may be a part of the culture. The bit about her being into psychics suggests that she will be very interested in Sookie.

Calvin Norris - Werepanther
Gregory Sporleder
This season on True Blood we'll be introduced to Calvin Norris, a character who will play a large role in the lives of both Stackhouse siblings as the series progresses. Although he is first introduced in the fourth Sookie novel, Dead to the World, we will meet him early in season 3 as Alan Ball & Co. speed up various plots. Calvin is a full-blooded werepanther and the leader of the werepanther community in Hotshot, LA. This little community huddles at a crossroad about 10 miles away from Bon Temps, putting them in easy proximity as Sookie finds out more about the supernatural world around her.

The book describes Calvin as a small man, about 5'7″, in his late forties. He has green-gold eyes, short hair, and a trim beard salted with gray. His short stature is offset by an agile build and muscular arms. He is employed as a crew leader at Norcross, a local lumber mill, in addition to his duties as leader of Hotshot.

Sookie becomes involved with Hotshot thanks to Jason and his interest in Crystal Norris, Calvin's niece. Per the book, years of inbreeding in Hotshot has weakened the shifters' powers. In order to bring fresh blood into the community, and knowing about her gift, Calvin offers Sookie his protection and suggests that they procreate. She turns him down but does remain friends with him and in contact with the werepanthers, leading to further exposure of the hierarchy and rules the community lives by.

source
Crystal Norris - Werepanther
Lindsay Pulsipher
Introduced in the second episode of season 3, the interestingly titled "Beautifully Broken", Crystal Norris is set to be one of the more complicated characters in the series. A full-blooded werepanther, we don't meet her in the books until the fourth in the series, Dead to the World. Her early arrival on True Blood appears to be a way to bulk up Jason Stackhouse's storyline this season as her story is intimately entwined with his. The book describes her as a "short, thin, dark twenty-one-year-old" while the casting call simply describes her as "hauntingly beautiful".

Crystal's story in the book is one of secrets, lust, anger and poor choices. She and Jason are instantly attracted to each other which results in Jason – and then Sookie – being drawn into the world of Hotshot, LA, the were community located about 10 miles from Bon Temps. Crystal's uncle, Calvin Norris, is the leader of the community and administers its sometimes harsh rules. In the books Crystal ends up pregnant with Jason's child and they marry. Sadly it's not a happy marriage and it ends tragically for both of them. It's unknown how closely True Blood will follow the book storyline, but the fact that we are being introduced to the weres and Hotshot suggests that Crystal and Jason's story will not end quickly.

source
Debbie Pelt - Alcide's ex-gf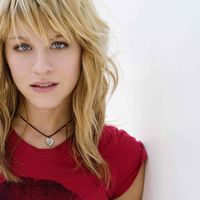 Brit Morgan
One of the most obviously troubled figures in the series is Debbie Pelt, a young woman we first meet in Club Dead, the third novel in the Southern Vampire Mysteries on which True Blood is based.

Described in the book as "a tall young woman with gleaming short black hair, athletic build, and a long narrow face," with a weird, choppy haircut, she is first introduced as a werelynx, then later as a werefox. She may take on another were role in the show, but at least we know that she is a supernatural being.

In addition to being a part of the were community, Debbie is Alcide's ex-girlfriend and their history is complicated and full of drama, to put it succinctly. It's an on-again, off-again relationship fraught with drama. In the books, she is briefly engaged to a wereowl but Alcide is never truly out of her life. She is also involved in Bill's kidnapping, resulting in bad blood between her and Sookie.

In a departure from the books, we know from the casting call that True Blood's Debbie Pelt is addicted to V and appears "strung out". Add that to what we already know is a difficult, stubborn character and sparks are bound to fly

source