Below is a guide of how to copy links/URL of Topics or Posts within the forum.
Thanks to
PenguinJosh
&
BigSimpsin
for creating 90% of the guide.
Linking To A Thread
Step 1
Find the topic you wish to nominate and open it by clicking the name of the thread.
In the example below, we have selected "STV Forum Awards Discussion"
Step 2
Once the topic has opened we now need to get the link. To do this, copy the URL at the top of the page of the topic you wish to nominate. Highlight the URL located in the navigation bar and either hold CTRL and type "C", or right click the URL and click "Copy".
In the example below, the highlighted area is the navigation bar with the Topic URL.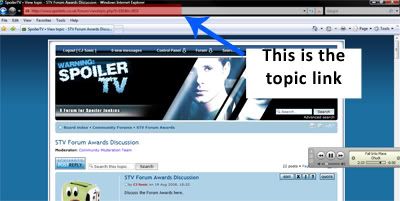 Step 3 - STV Awards Only
Now you have the Topic URL you need to paste it into your nomination box. Just right click on the box and select paste.
In the example below, I have already entered my nomination for community but I just have to right click to paste within the Post Field
Linking To A Specific Post
Step 1
Locate the post you wish to nominate. Click the top of the post where it says " RE:
threadnamehere
". This will then update the navigation bar at the top of your browser to the specific link of that post. You can tell this because it usually updates the end of the URL to say "#p11111" with the 11111 being the number of the post.
In the example below, you would click where it says Re: STV Forum Awards Discussion
Now just follow Step 2 and 3 from the Topic Link guide above.
---------------------------------------------------------------------------------------------
If you require any further assistance, you can contact myself by PM or any member of the Spoiler TV Staff and we will get back to you as soon as possible!
CJ SONIC
Senior STV Moderator
If you have issues doing this, please make a post in the
Help Section
. Thank you.