In this guide I will explain how to upload images from your computer and post them on the board.
Uploading And Posting An Image
Step 1 - Upload Your Image!
To upload images, we'll be using
ImageShack
, but other good ones include
TinyPic
,
ImageBam
and
PhotoBucket
. Once you get to the ImageShack website, make sure "image" is selected after the "upload:" tag ("image" is the default setting), and then select "Browse". (
As shown in the following example
)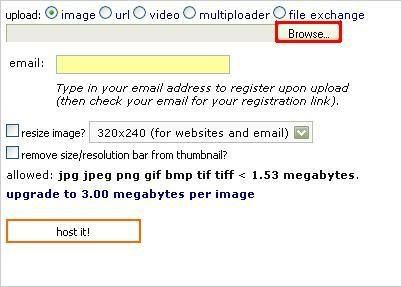 The following window should pop up: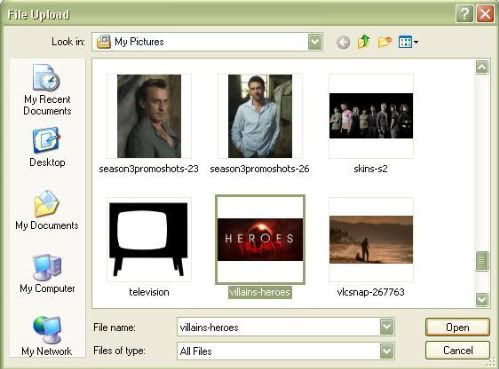 Find and select the image you wish to upload, and click Open, as shown in the image above.
Note: Make sure your image is under 1.53MBs and is in one of the following formats: jpg jpeg png gif bmp tif tiff
Also, the maximum image width allowed on the forum is 500px.
If you want you can enter your e-mail address to register, or resize your image, but all of those are optional. Once you're all set, click "Host it!"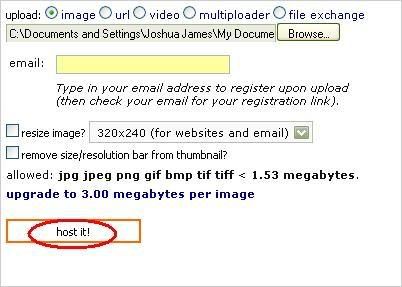 Step 2 - Get Your Link!
Once your image has finished uploading, you will be taken to a page where you will need to scroll down below the advertisement for your link.

This is the link to my image:
http://img293.imageshack.us/my.php?image=villainsheroeson8.jpg
Step 3 - Post Your Image!
The third and final step is posting your image. First, write a new post. When you're finished with that and you know where you want to add your image, click, the "img" button in the bar above the text field.

In between the two tags, paste your link, and click "Submit". Your image code should look like this:
The following code is just an example. The link will be different in your post.
Code: Select all

[img]http://img293.imageshack.us/my.php?image=villainsheroeson8.jpg[/img]
...And Voila! Your image should be posted! It wasn't that difficult, now was it?
---------------------------------------------------------------------------------------------
If you need any more help, please PM myself or another member of the SpoilerTV Staff and we will get back to you as soon as possible!
JOSHJB
Community Moderator
If you have issues doing this, please make a post in the
Help Section
. Thank you.