It's less than a month for the start of season 2 of Pretty Little Liars! The girls and their mysteries are back on 21st June (on the US and in many of our computers...). They've not been away for so long, but that doesn't mean that we didn't miss them.
So here is what we have on season 2 so far
,
courtesy of Spoiler TV
, the site were you can find everything on your favorite shows!
Alisson's mom's been cast

!
She'll be interpreted by Andrea Parker (Less Than Perfect). What does that mean? Are we going to see Ali's gorgeous brother in town again? Why is everyone so beautiful at PLLTown? (maybe we can leave that speculation for another time...)
Now seriously
: "Ali's
seemingly sweet
mom who returns to Rosewood to oversee a charity fashion show being held in her daughter's honor. With all four Liars assisting with the festivities, the MIA momma is
initially overjoyed
to reconnect with Ali's longtime friends. (Obviously she hasn't heard that
they are now kinda sorta suspects in her murder
.)" And here is more description of the mother: she's someone "who happens to be nothing like her scheming daughter — at first!" Oh-Uh
(
Source
)
Wait what?!
The girls are gonna suspect the mother did it?!
This is gonna be good!
The begging of the season
:
Lucy Hale told us that the season two premiere picks up literally seconds after where the last episode left off. Lucy also revealed that

one mystery will be solved by the fifth episode of the second season

. Which one could it be? (

Source

)
Probably one of the first scenes of the season:
PLL 2x01title: "It's Alive!
". And I ask you:
what
is alive? Ian? It's probably a
thing
, for it's not
who
is alive, but
what
is...
2x01 photos:
take a look over here
!
But these are the ones that most catch our attention: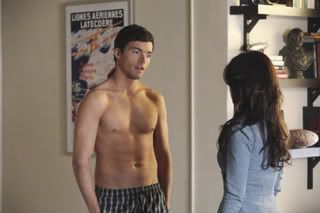 OMG!!!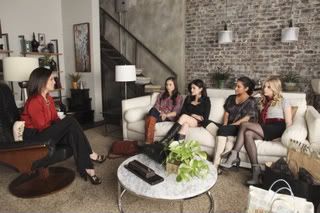 And then we have a video with the therapist...
'A' is calling in the middle of the therapy?! Come on, 'A'!
Am I too paranoid to think that this therapist can betray them? Are we going to find out that the therapist is working with someone that want to harm the liars?
Aria and Ezra
. They are such a cute couple, but it's clear things are gonna be very difficult for them. Are they going to make the relationship public once he's out her school? How are Aria's parents gonna take this? Hint: probably not very warmly.
Here's what Ausiello shared about them:
Although Aria and Ezra will still be going strong when the show returns on June 21, look for a new guy to catch Aria's eye. "I think it makes her realize how much she really is risking by being with Ezra," Lucy Hale tells TVLine. "At this point in filming, I don't know which guy she's going to choose." Not making matters any easier, Hale adds that "the two guys are completely different." So who is the mystery anti-Ezra? Hale wouldn't give up the deets, but a source tells us his identity will surprise fans and offer up some insight into Aria.(

source

)
OMG, Aria!
You have the cuttest guy in Rosewood!
WHY
you're gonna be interested in someone else?! (Just send Ezra to Brazil and I'll take of him over here!)
Now seriously: This only shows that making this relationship public is gonna be very hard on Aria and she probably will see that things could be different with someone else. But still...
Ezra is worth it, gal!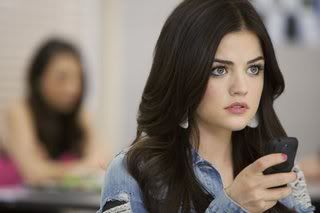 What did 'A' say now? (photo from episode 2)
And who is Aria gonna be interested in? Do you feel there's gonna be another hottie in the area?
Oh, I wish I lived in PLLTown...
Spencer and Toby
: I didn't like that paring at first, but now I totally dig it! (It's muuuch better than Emily and Toby!) How are you guys calling them? "Spenby"? Anywayssss... I'm a Toby-Spencer shipper, which makes me sad when I read this, from The TV Addict:
The only bright spot is that despite pressure to keep away from each other, Spencer and Toby remain determined to make their young romance work – which won't be easy as they discover they are two very different people. The path to true love is filled with good intensions, but real life makes it feel more like a bed of thorny roses. (

Source

)
Well, every couple passes through rough stuff. That's natural in life: in a few months the bed of roses really becomes a bed of thorns... Specially with an assination plot in the middle!
These are some photos of the second episode "The Goodbye Look" (Don't like that title! Is this look gonna be between Spencer and Toby?)
Toby doens't look happy...
... and Spencer doesn't look happy either!
But, hey, everything's good again, right?
Poor Spencer!
I hate Spencer's family! There you go, I said it!
New scene from season 2 premiere:
Hottie alert! Who's the new guy?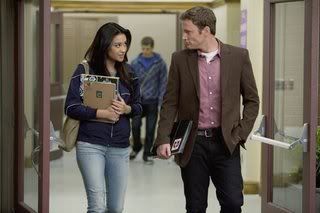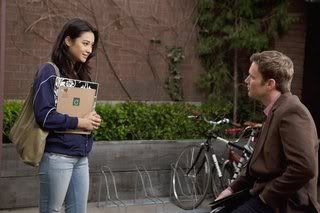 Photos from episode 2x02.
Do you recognize him? Because I don't... Is there gonna be a new teacher in PLL High? Maybe replacing Ezra? And what is he talking to Emily?
That leads us to...
Emily
! Do you really think Emily is gonna move? I don't think so. I think probably the whole thing about moving out is not gonna work out... but not until the last minute!
Here's what Kristin dos Santos told about Emily this season:
How about we share with you what Shay Mitchell told us about Emily next season? "She was kind of starting something with Samara (Claire Holt) in the last episode, and so that continues. But we can't go too far into, because Emily is moving this season, so she doesn't want to start anything she can't finish. So she's cautious of that, but still having fun." (

Source

)
I really dig this relationship of Emily and Samara (remember her? That hot blondie from college?) I think it's much better Emily stays with someone self-assured as Samara than drama-queen red-haired. Everyone has a hard time accepting the sexuality and her dad is a real homophobic, so I know that makes things difficult. But maybe Emily deserves something better than getting out of the closet all over again.
Second episode synopsis
.
Source
.
With the girls being forced to go their separate ways for a bit, Aria, Emily, Hanna and Spencer need each other now more than ever. Emily struggles with her family's impending move to Texas, but when a college athletic scout approaches her after a swim meet, she sees an opportunity that could keep her in Rosewood. Hanna's father returns to town; with her friends at arm's length, will she forgive Mona so she has someone to lean on? And Spencer tries to be supportive of Toby's new plans to free himself of his family and Rosewood. Meanwhile, on the eve of Ezra's last day at Rosewood High, he begs Aria to meet him so they can work things out. Aria, on the other hand, is not so sure there's anything left to say. But is she really ready to say goodbye to Mr. Fitz for good?
Is the guy mentioned here the new guy in the photos talking to Emily? And it looks like Aria is really gonna be mad at Ezra because he's going to work with his ex-fiancee.
More Caleb!
Are you also excited that we're gonna see Caleb again? He was coming back in last season finale. I feel in love instantly the first time I saw him and I totally love Hannah+Caleb. And that
shower scene
, oh my!
Hope Hannah and Caleb will work things out, although I feel this probably won't happen.
So what are your thoughts and hopes for the second season?