I thought I would find the screen captures from LOST that may have been the moments when the WCM were established for the posters.
1) "the Numbers" (Season #1 Ep. 18 - Numbers) - When we find out that Hurley used the numbers for the Lottery, we thought, what are the numbers...
#1 -
http://gallery.lost-media.com/displayimage.php?pid=32200&fullsize=1
2) "Locke's Secret" (Season 1 - Ep. 4 - Walkabout) - when we found out that Locke was once paralized - we thought, why isn't he now?
#2 -
http://gallery.lost-media.com/displayimage.php?pid=15705&fullsize=1
and the scene at the end of Walkabout -
http://gallery.lost-media.com/displayimage.php?pid=15724&fullsize=1
3) "DHARMA Van" (Season 3 - Ep. 10 Tricia Tanaka is Dead & Various other episodes) - when wondered just what DHARMA was doing on the island even more, and what was with this vehicle and skeleton -
http://gallery.lost-media.com/displayimage.php?pid=87764&fullsize=1
4) "The Crash" - (Season 1 Ep. 1 - Pilot) This one doesn't depict into one moment - but the whole feeling of flight 815 and all of the aspects of what is going on with Jack and what involves him early on -
http://gallery.lost-media.com/displayimage.php?pid=13744&fullsize=1
I'm sure there is a better photo that shows the wreckage with Jack in front of it.
5) "The love triangle" - (Season 3 Ep. 6 - I Do) This was through many different episodes -
http://gallery.lost-media.com/displayimage.php?pid=79885&fullsize=1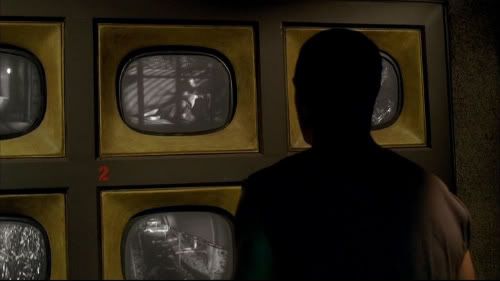 6) "4 toed statue) - (Season 2 Ep. 23 - Live together, Die Alone) The first time we saw the statue was way back at the end of season 2 - why is there a big foot with only 4 toes? - We finally saw the full statue at the end of Season 5.
http://gallery.lost-media.com/displayimage.php?pid=70575&fullsize=1
http://gallery.lost-media.com/displayimage.php?pid=130052&fullsize=1
&
http://gallery.lost-media.com/displayimage.php?pid=130626&fullsize=1
7) "The Smoke Monster" (Season 3 Ep 5 The Cost of Living) Since the first episode Smokey has been popping up. This is the Episode where Eko meets smokey for a 2nd time, the first time was a WCM when Eko and Smokey did a stand off, and Eko was scanned and left alone. This time around, Eko isn't so lucky, Smokey visits Eko in varies forms and wants Eko to confess...
http://gallery.lost-media.com/displayimage.php?pid=78930&fullsize=1
Another clue that this print is from The Cost of Living is the stick that Eko has with him. He made a walking stick in the episode that was longer than his normal stick
8) "The Hatch" (Season 1 Ep 19 - Deus Ex Machina) Locke's mission was to get in the hatch, and then after the island's sacrifice, he wondered Why - then we wondered, Why and who when the light in the hatch came on. We wouldn't find out until the following season.
http://gallery.lost-media.com/displayimage.php?pid=34356&fullsize=1
9) "Rousseau's Transmission" (Season 1 Ep 2 - Pilot Pt 2) - On the day after the crash, a group of survivors took the transceiver and trekked to higher elevation in an attempt to call for rescue. Sayid managed to pick up the signal, and Shannon attempted to translate the French message. This transmission left a lot of questions, like who left it, why has it been repeating for 16 years, why are the dead, and Charlie's Line:
Guys. Where are we?
10) "The Swan Station" (Season 2 Ep1 - 1st Swan) (Season 2 Ep 14 - First Hieryoglyphics) - The Swan and the Timer, when we first saw the Hatch, we had not idea it would turn into what it did. The Swan was a big question, and what was with the timer? Then we saw the timer finally hit 0 and we were like WTF is with those hieroglyphics? Later we find out they mean "Underworld" but are "subject to interpretation" Then after seeing the Swan Logo, it seems like everything known to man has a DHARMA logo on it...
11) "Walt's Kidnapping" (Season 1 - Ep 24 - Exodus Part 2) The raft was finally launched, that night, we get the first shot of the Others, as a bearded man says "We're going to have to take the boy". Soon Walt is snatched up, the raft is on fire, Jin is nowhere to be found, and we hear Michael for months and months shouting WAAAALLLTTT!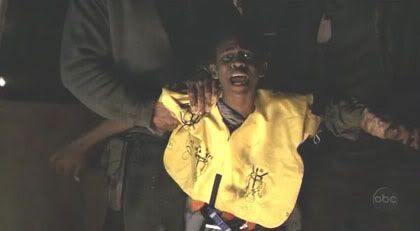 12)Poster #12 - "Jacob's Cabin" (Season 3 - Ep 20 - The Man Behind the Curtain) The cabin is a source of Mystery, it is where we first see "Jacob" and the cabin seems to move around. We have seen Christian inside telling John that he has to move the island. We still wonder what happened that night when John & Ben visited Jacob... The first glimpse of Jacob was probably one of the most scrutinized images... (IMO I've always thought it looked like Locke wearing a Brother Campbell hood)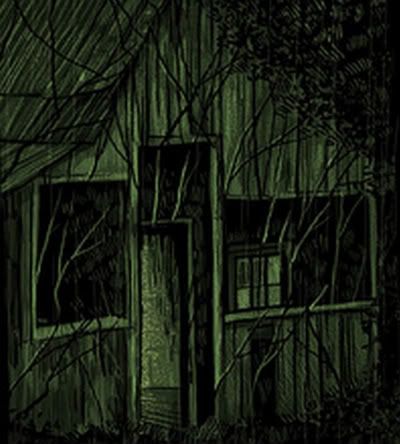 [/quote]
From the Transcript "Man Behind the Curtain" :
BEN: Something you should know, John, before we go. Whether or not you think he's the Wizard of Oz, I can assure you that Jacob is very, very real. And we're gonna go see him, and he's not gonna like it. In fact, I have a feeling he's going to be very...angry.
And that's why my hand was shaking, because this is not a man you go and see. This is a man who summons you.
http://nooysterhere.com/dcpb/danieldanger-1623515/85-Daniel-Danger.jpg
LOCKE: Well, I guess there's a first time for everything.
13) Poster #13- "The Barracks" (Season 3 - Ep 1 - Tale of Two Cities) When we first see the barracks it is during the book club meeting in Juliets house. We are like what is going on here. Then the ground shakes, everyone rushes outside and we see a plane streaking across the sky. Then we see Ben, and we are like Woah, we just saw Flight 815 from the island. Where did the others get these houses, and electricity... What is going on... Then it pans out to show what would become the first of many names - Othersville (New Otherton, DHARMAville)
Season 3 - Othersville -
We also see The barracks as DHARMAville, and also the refuge of Team Locke
14) Poster #14 "Ben Linus" (Season 2 Ep - 14 One of them "Henry Gale" Season 3 Ep -2 Glass Ballerina "Benjamin Linus", Season 3 Ep - 4 - Every man for himself - the #8 Rabbit) When we first see Ben he uses the name "Henry Gale" as he is captured in one of Rousseau's nets. Sayid takes a wounded "Gale" back to the Swan and the hunt for who is "Henry Gale" starts. It is soon determined that Henry is not Henry. It isn't until Season 3 episode 2 when Ben tells Jack that his name is Benjamin Linus...
"My name is Henry Gale. I'm from Minnesota. Please"
In Lockdown we find out that "Henry Gale" isn't Henry Gale
In the Glass Ballerina "Henry's" name is finally known as Benjamin Linus
"Hi, my name is Benjamin Linus and I've lived on this island all my life."
And finally Ben has used a rabbit in the past to test the fence, but he used the number 8 rabbit to con Sawyer into thinking he put a pacemaker in him.
and finally the reveal to sawyer that #8 is ALIVE
15) Poster #15 "The Polar Bear" (Season 1 Ep 2 - Pilot Part 2). Out of the jungle comes a Polar Bear coming straight for Sawyer. Sawyer stands calmly and blasts the bear to have it fall at his feet. We are left wondering why is there a polar bear on a tropical jungle island?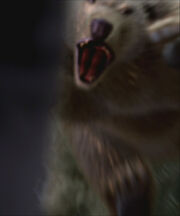 16) The final poster titled LOST has so many different moments from the show. It will require further investigation. But here is a preliminary look without a Hi Res Version:
MORE TO COME
We see most of our characters over the seasons: Jack, Sawyer, Kate, & Locke are top and foremost. Then we see Hurley, Sun, Jin, Desmond, Dan, Vincent, Juliet, Claire, Charlie, Aaron, Walt, Michael, Ben, Shannon, Boone, Ana Lucia, & Eko. Dan is the only Freighter person shown, and Juliet & Ben are the only others in the top portion.
Below, we see the crash w/ what looks to be Jack. Kelvin pulling Desmond to the Swan. The Tailies when we first see them and Jin thinks that they are the others, We see the raft, Dharma Van (probably when hurley is driving), we see a polar bear, torches, what looks to be Eko's grave, the swan when it is known as the hatch, and what looks to be Richard carrying a rifle and looking from the jungle (possibly during the incident)
At the top we have the 4 toe statue, the hieroglyphs from the timer, and an Oceanic flight in the upper right hand corner. There are 2 red dots, that could represent Naomi's beacon when Desmond sees it.
The Numbers in the Poster... OK, you may or may not agree with this, but here are the occurance of the numbers...
4 --- Number of Torches (Hurley, next to Locke, 2 bottom left next to polar Bear)
8 --- Number of time Smokey is seen (I'll post pics of this one for you to see)
Left side by Jack -
(run in with Smokey during Piolot)
Right side by torch -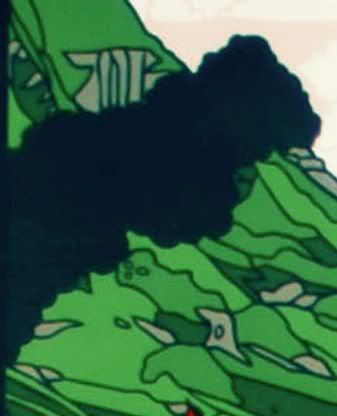 (Locke & Smokey - 2 times)
Left side by Hurley -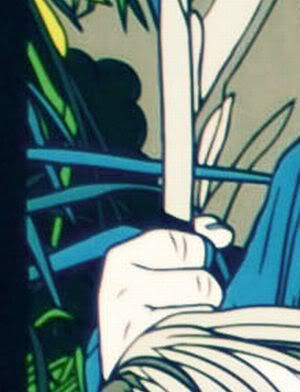 (Juliet's run in with Smokey at the Sonic Fence)
By Eko & L -
(Eko & Smokey confrontation)
By Wreckage -
(First night on the Beach)
By T -
(Ben summons Smokey & Judged by Smokey)
By Sun -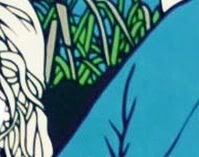 (Claire meeting with Christian?)
By Ana Lucia -
(Science Expedition)
15 - Flight 815 Survivors Depicted from the front part of the plane (Jack, Kate, Sawyer, Locke, Hurley, Sun, Jin, Walt, Michael, Sayid, Charlie, Claire, Shannon, Boone, & Aaron) - Aaron is included instead of Vincent
16 - Number of DHARMA Logos at the bottom
23 - Number of Characters that aren't considered part of the background (Jack, Kate, Sawyer, Locke, Hurley, Sun, Jin, Dan, Desmond, Vincent, Walt, Michael, Sayid, Charlie, Claire, Aaron, Juliet, Ana Lucia, Shannon, Boone, Ben, Eko, Richard)
42 - (May be more of a stretch, but the yellow jumped out at me) This is the number of yellow seen in the plants, torches, timer, & hatch) to be 42, it is the instances of yellow that is surrounded by other color.
Hurley's Torch - 3
Torch Bottom - 8 & 2
Top torch - 7
Timer - 4
Plant by Ben - 4
Plant by Mike - 3
Plant by Eko - 3
Plant by Hurley - 3
Hatch - 1
4 toe statue - 4
Of course there is probably a lot more in this one, but here are some of the moments in the seasons...
Sayid & Shannon - (2x08) - Sayid is carrying Shannon after Ana shot her -
Kelvin dragging (2x23)- Looks to be Kelvin dragging Desmond back to the Swan for a long 3 years of button pushing -
4 toe statue (2x23) we first see this in season 2 -
Jack at the crash site (1x1) -
Eko w/ axe (2x21) - Eko has a dream that requires the axe, he uses it to climb and see the ? -
hatch - the hatch before dynamite is used to get in (1x19)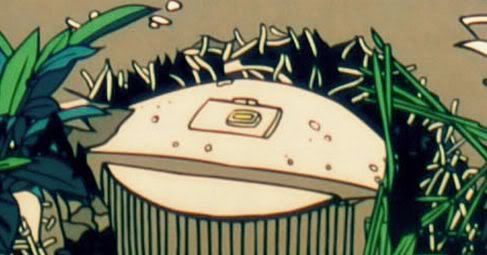 Others... (2x02) Jin first sees the Tailes and thinks they are the others -
Charlie,claire,aaron (3x04) - after Desmond's first flash regarding the lighthning -
Hurley Van (3x22) Hurley uses the DHARMA Van to get rid of Pryce -
raft - (1x23) the raft is launched but doesn't make it far -
Eko's Grave (3x06) - Eko is buried after the run in with Smokey (need to get a picture of a closeup)
Richard w/ Rifle (season 6 image - watching Incident)
Red dots on oceanic plane (upper right hand corner) - Naomi's beacon in 3x21.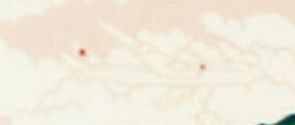 Polar Bear - Various times
Hurley w/ torch - (4x01) on his way to the cabin - unbeknownst to him... -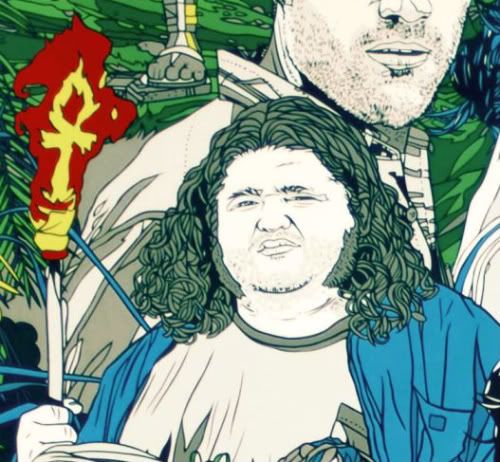 Ana Lucia (2x21) - in Eko's dream -
Vincent (1x01) - will need to get a screen capture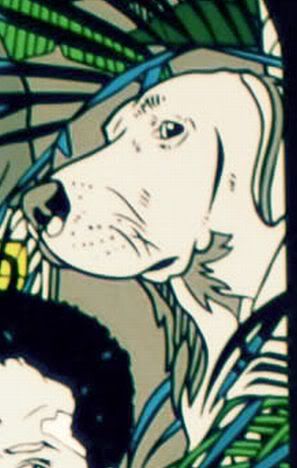 Timer (Season 2) -
Torches (2x11) - The ring of fire - "Light 'em up" "this is our island"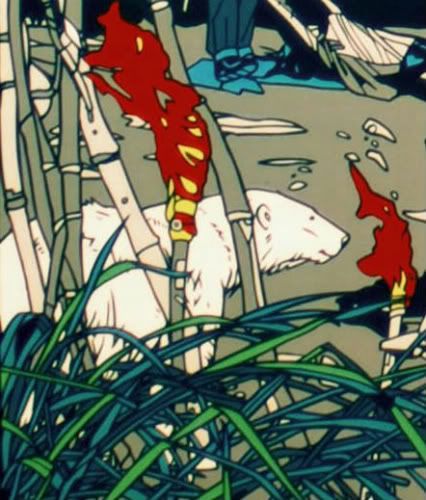 Hieroglyphs (season 2) - System Failure -