This poster moment poster is going to take a little longer than usual... so if anyone is reading this, I will make my attempt to get the scenes
-- Merged Double Post --
16) The final poster titled LOST has so many different moments from the show. It will require further investigation. But here is a preliminary look without a Hi Res Version:
MORE TO COME
We see most of our characters over the seasons: Jack, Sawyer, Kate, & Locke are top and foremost. Then we see Hurley, Sun, Jin, Desmond, Dan, Vincent, Juliet, Claire, Charlie, Aaron, Walt, Michael, Ben, Shannon, Boone, Ana Lucia, & Eko. Dan is the only Freighter person shown, and Juliet & Ben are the only others in the top portion.
Below, we see the crash w/ what looks to be Jack. Kelvin pulling Desmond to the Swan. The Tailies when we first see them and Jin thinks that they are the others, We see the raft, Dharma Van (probably when hurley is driving), we see a polar bear, torches, what looks to be Eko's grave, the swan when it is known as the hatch, and what looks to be Richard carrying a rifle and looking from the jungle (possibly during the incident)
At the top we have the 4 toe statue, the hieroglyphs from the timer, and an Oceanic flight in the upper right hand corner. There are 2 red dots, that could represent Naomi's beacon when Desmond sees it.
The Numbers in the Poster... OK, you may or may not agree with this, but here are the occurance of the numbers...
4 --- Number of Torches (Hurley, next to Locke, 2 bottom left next to polar Bear)
8 --- Number of time Smokey is seen (I'll post pics of this one for you to see)
Left side by Jack -
(run in with Smokey during Piolot)
Right side by torch -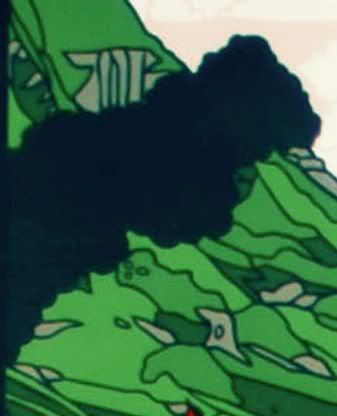 (Locke & Smokey - 2 times)
Left side by Hurley -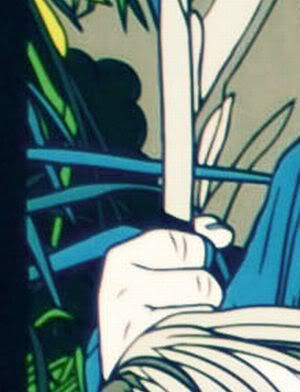 (Juliet's run in with Smokey at the Sonic Fence)
By Eko & L -
(Eko & Smokey confrontation)
By Wreckage -
(First night on the Beach)
By T -
(Ben summons Smokey & Judged by Smokey)
By Sun -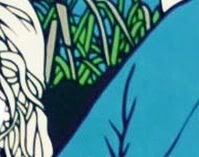 (Claire meeting with Christian?)
By Ana Lucia -
(Science Expedition)
15 - Flight 815 Survivors Depicted from the front part of the plane (Jack, Kate, Sawyer, Locke, Hurley, Sun, Jin, Walt, Michael, Sayid, Charlie, Claire, Shannon, Boone, & Aaron) - Aaron is included instead of Vincent
16 - Number of DHARMA Logos at the bottom
23 - Number of Characters that aren't considered part of the background (Jack, Kate, Sawyer, Locke, Hurley, Sun, Jin, Dan, Desmond, Vincent, Walt, Michael, Sayid, Charlie, Claire, Aaron, Juliet, Ana Lucia, Shannon, Boone, Ben, Eko, Richard)
42 - (May be more of a stretch, but the yellow jumped out at me) This is the number of yellow seen in the plants, torches, timer, & hatch) to be 42, it is the instances of yellow that is surrounded by other color.
Hurley's Torch - 3
Torch Bottom - 8 & 2
Top torch - 7
Timer - 4
Plant by Ben - 4
Plant by Mike - 3
Plant by Eko - 3
Plant by Hurley - 3
Hatch - 1
4 toe statue - 4
Of course there is probably a lot more in this one, but here are some of the moments in the seasons...
Sayid & Shannon - (2x08) - Sayid is carrying Shannon after Ana shot her -
Kelvin dragging (2x23)- Looks to be Kelvin dragging Desmond back to the Swan for a long 3 years of button pushing -
4 toe statue (2x23) we first see this in season 2 -
Jack at the crash site (1x1) -
Eko w/ axe (2x21) - Eko has a dream that requires the axe, he uses it to climb and see the ? -
hatch - the hatch before dynamite is used to get in (1x19)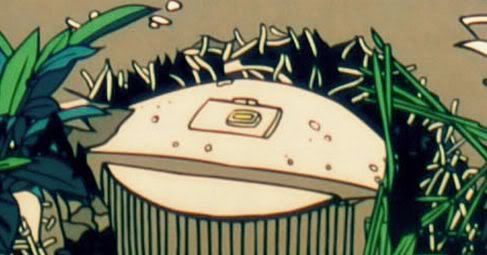 Others... (2x02) Jin first sees the Tailes and thinks they are the others -
Charlie,claire,aaron (3x04) - after Desmond's first flash regarding the lighthning -
Hurley Van (3x22) Hurley uses the DHARMA Van to get rid of Pryce -
raft - (1x23) the raft is launched but doesn't make it far -
Eko's Grave (3x06) - Eko is buried after the run in with Smokey (need to get a picture of a closeup)
Richard w/ Rifle (season 6 image - watching Incident)
Red dots on oceanic plane (upper right hand corner) - Naomi's beacon in 3x21.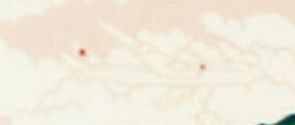 Polar Bear - Various times
Hurley w/ torch - (4x01) on his way to the cabin - unbeknownst to him... -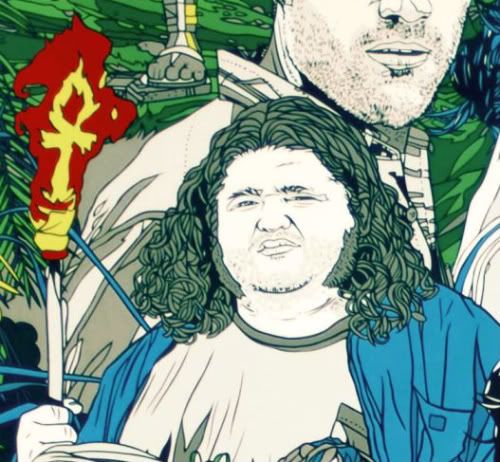 Ana Lucia (2x21) - in Eko's dream -
Vincent (1x01) - will need to get a screen capture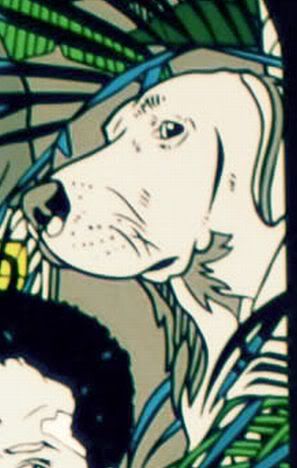 Timer (Season 2) -
Torches (2x11) - The ring of fire - "Light 'em up" "this is our island"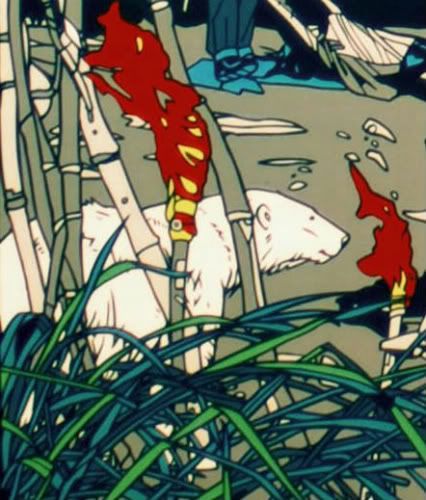 Hieroglyphs (season 2) - System Failure -